Audio support

ExtenDOS Pro includes a full audio CD player, available both as an accessory and as a program. The main window of the CD player is shown below: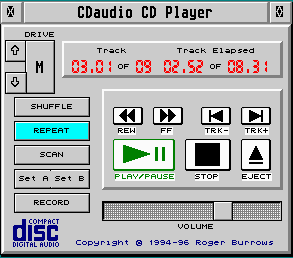 A smaller version of the main window may be selected at any time; this is particularly effective in reducing screen clutter when running the audio player as a desk accessory.
Standard controls include: play/pause, stop, eject, track up/down, index up/down, skip forward/back, repeat, shuffle, scan, set play segment, and volume. In addition, a record button allows direct digital copying of audio CDs to your hard disk (where supported by CD-ROM drive firmware).
ExtenDOS Pro conforms to the defined CD-ROM software interface standard; programming details for this interface are available on request from Anodyne Software. This interface allows third-party software products such as the CDPLAYER program from Alexander Clauss to access the audio CD functions, to provide capabilities beyond those available in the CDAUDIO program/DA.

Last updated 29 April 2000 by Roger Burrows