Installation and reconfiguration

ExtenDOS 4 is installed and reconfigured using a fully graphical installation program; online help is available at all times through the HELP button on each screen. Installation and reconfiguration are similar processes, except that in installation mode, the program additionally copies all ExtenDOS 4 components from the installation diskette to the appropriate folders on your hard disk.
After starting the program, and selecting installation or reconfiguration mode on the startup screen, the program identifies all available system busses, and then scans them for CD/DVD devices. When the scan is complete, the bus summary screen is displayed: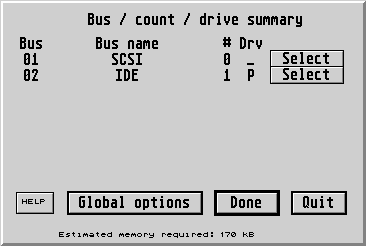 This screen is the heart of the setup process; here you may select Global options to set up those ExtenDOS 4 parameters that are system-wide, or you may select a specific bus to see all of the devices identified on that bus and then configure each device individually.

Last updated 31 August 2005 by Roger Burrows